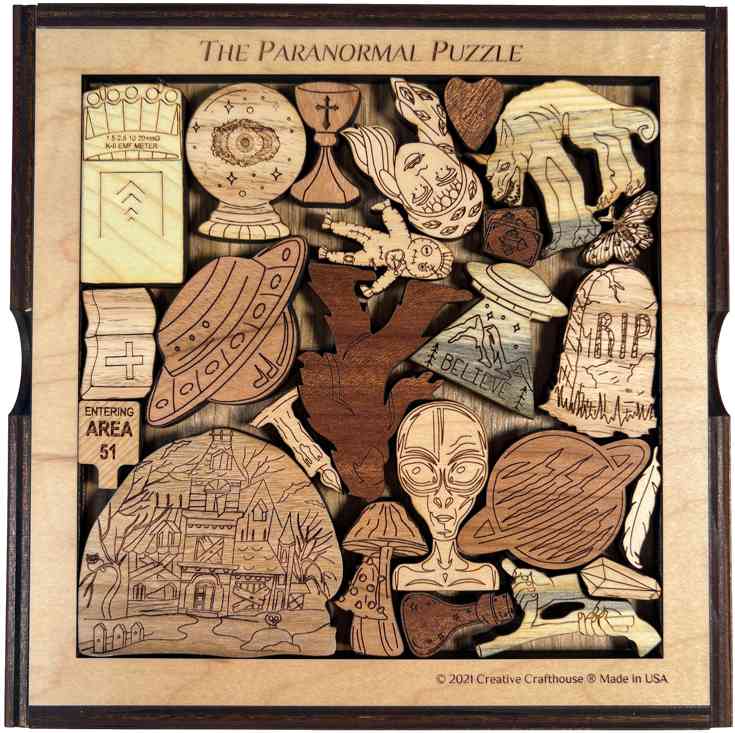 More Challenging than filming Bigfoot?
24 pieces associated with the Paranormal, Occult, or Mystical are included in this artistic, challenging, and fun puzzle.
At least 5 different quarter-inch thick hardwoods are used.

Each Puzzle will be a little different as we vary the woods used.
Items in the puzzle include a Voodoo doll, crystal, chalice, moth, feather, mushroom, haunted house,

K-II EMF meter, a dowsing rod, alien, spaceship, tombstone, candle, potion, Area 51 sign, Bigfoot, chupacabra, Tarot Cards,
Quija board piece, Bible, Crystal ball, and more.
Made in our Hudson, FL woodshop. Artwork by Anjali Rani.

Copyright 2021 Creative Crafthouse

Level of Difficulty: level 4