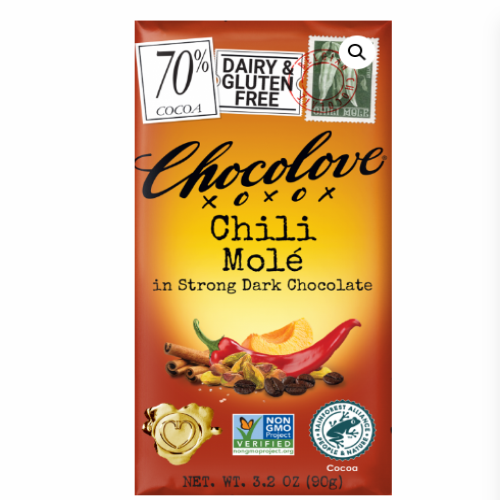 Strong, bittersweet Belgian dark chocolate crafted to deliver an exceptionally smooth experience and mixed with the finest ingredients to craft new and traditional flavors into a tasty chocolate bar. Ranging from 55% - 77% Cocoa and available in a variety of flavors.
Chocolove's mission is to make and sell the best tasting chocolate in a way that makes customers and everyone involved, happy.
About Chocolove: "At the foothills of the Rocky Mountains, Chocolove produces chocolate that delivers on quality, taste, and affordable luxury. The cold, dry mountain air helps craft the Chocolove taste and we are committed to delivering the highest quality chocolate both ethically and at a good price.
Our certified source of cocoa beans is traceable to the farmer. Our non-GMO verified ingredients are another way to know where our ingredients come from and to show that we care to buy the very best. Great effort is made to deliver consistent great taste so you can feel great about eating Chocolove. That is why Chocolove consumers say, "I love Chocolove"."